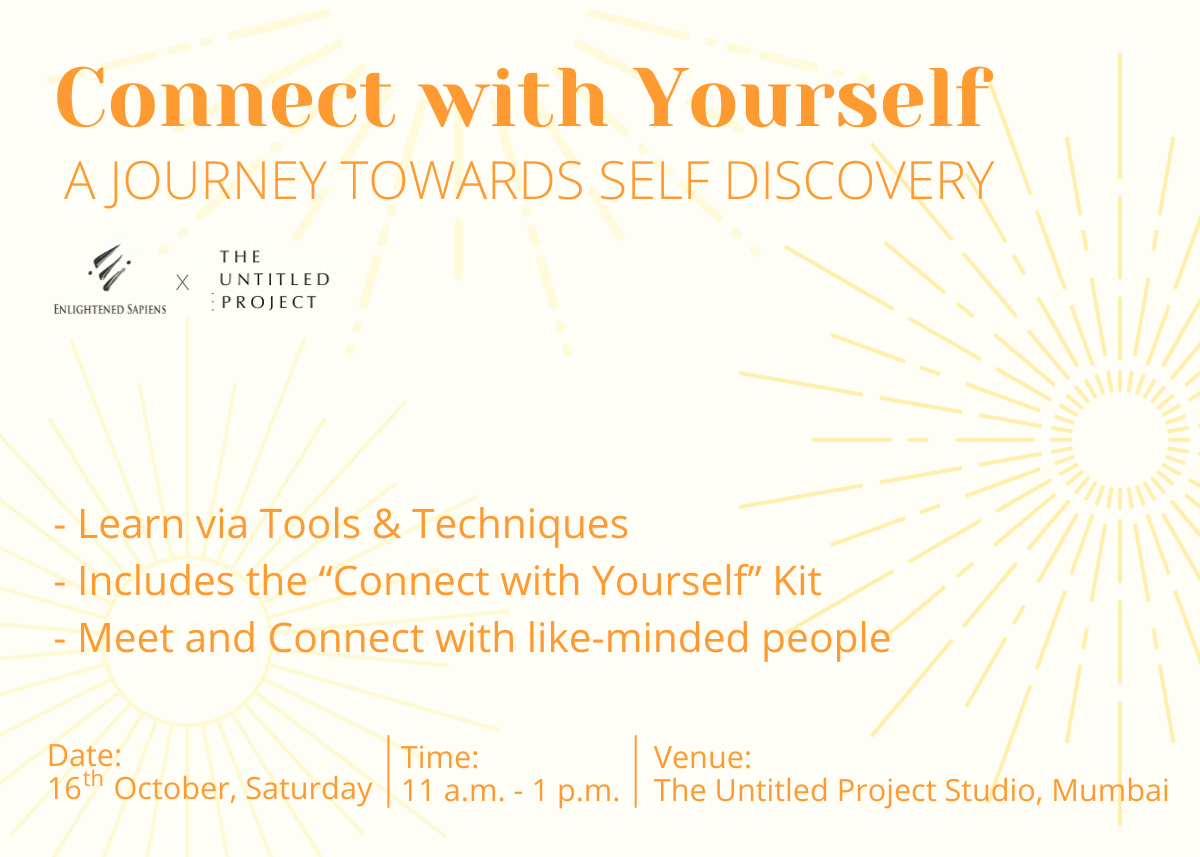 Connect with Yourself – A Journey towards Self-Discovery
About the Experience
It looks like life's finally happening again. The world as we know it is opening up. We're starting to physically meet people, keeping up with social commitments and are pretty much back to the grind. In all this, have you found time to connect with yourself? And just be. Do you find it hard to actually chalk out the time to do so?
We felt the same way and found an almost close to perfect solution for it and would love to share it with you. Join us to experience our very first physical event (while following all covid protocols strictly) where in the true spirit of Enlightened Sapiens , you can meet the community, have conversations in a safe space and ask all your questions.
This experience will be hosted by the Founder of Enlightened Sapiens- Karan Mulchandani. You've seen Karan, you've heard him speak but this time it will actually be face to face. The event is being held in collaboration with the Untitled Project.
What's different about this Experience?
Every concept is discussed with the team to ensure it resonates well with each member, through experiments, tools and experiences that are focused on providing you everything you need to connect with yourself. From time management awareness to understanding yourself better- we're all set to help you find your best self.
Since this is our first physical session, we'd really like to get to know each one of you well and allow for deeper and meaningful conversations. So there will be limited seats available. Please note the fee details at the end of this.
Let's get to know Karan
With a background in IT Engineering and a soul that lives in the mountains, Karan Mulchandani founded Enlightened Sapiens with a vision of a mindful and collaborative society that facilitates the exchange of knowledge through personal experiences. Some of the things he loves include Meditation, Time Management, Technology, Hiking, Gardening, Photography, Yoga, Cycling, Writing, Reading, Philosophy, Music & Art. Check out some of his work here.
Let's get to know The Untitled Project
The Untitled Project is a space for the community to come together for self expression, reflection & meaningful conversation. They also create EQ driven tools for culture transformation within organisations. They believe that in a world of technology, our power is still in our humanness, interconnectedness and connections. Check out some of their work here.
What you'll need for the session
2 hours of your time
An open mind
What you won't need for the session
No prior experience in Mindfulness
Event Details
Venue: The session will be a Physical Event in Mumbai.
The Untitled Project Studio
H Deepak & Co, 2nd Floor.
21st Rd, Shree Krishna Nagar,
MIDC Industry Estate,
Near Andheri Passport Office.
Andheri East, Mumbai, 400069
Directions
Date: 16th Oct 2021
Time: 11 a.m. – 1 p.m.
Add-ons:
You will also receive the "Connect with Yourself" Enlightened Sapiens Kit, which you can use during the session, as well as after to help you continue your journey.
Refreshments such as Tea/Coffee + Cookies are included in this price.
Are you ready to begin your journey towards Self-Discovery?