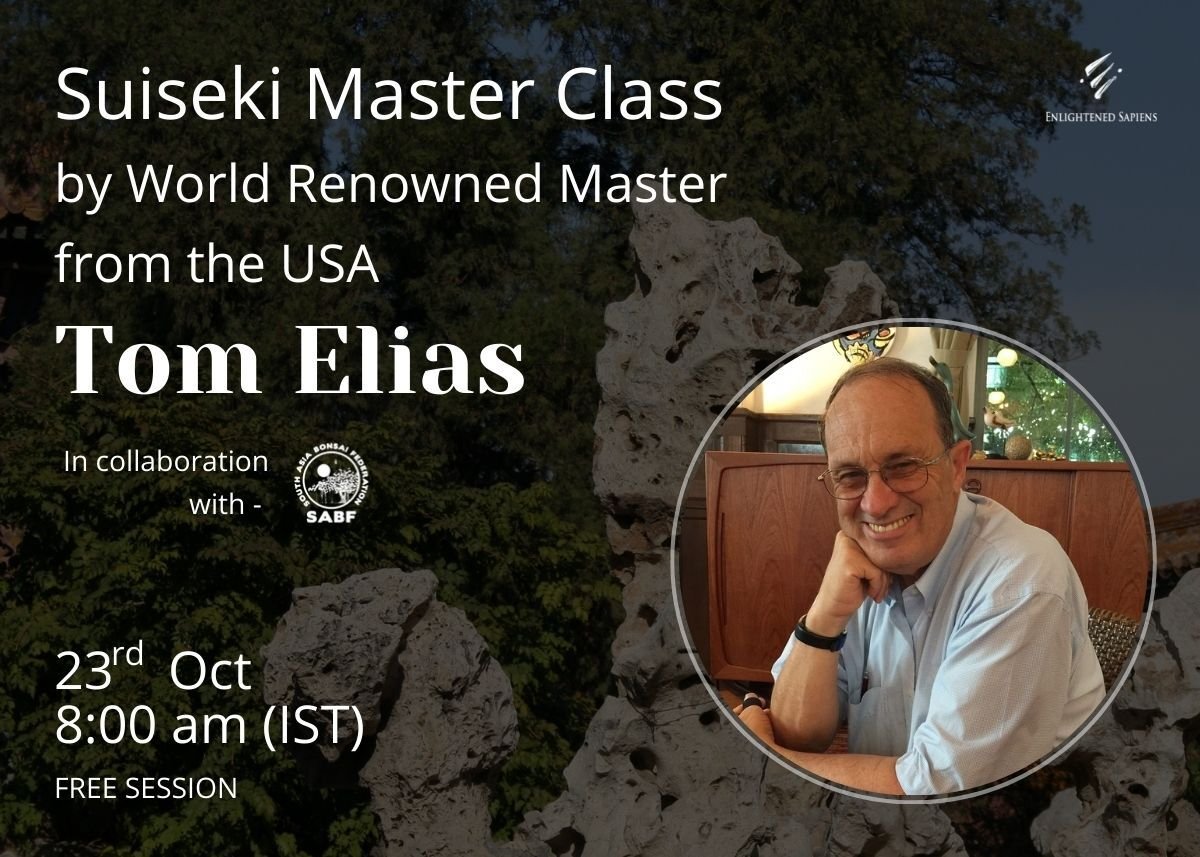 Suiseki MasterClass by Master Tom Elias
About the Session
Symbolizing stability, longevity and immortality, Suiseki (also called viewing stones) is the Japanese art of stone appreciation. Formed through time by wind and water, stones can take several sizes and shapes, reminding us of natural objects like mountains, waterfalls and other natural scenes. Join us for this interactive and informative MasterClass with highly renowned Master Tom Elias. You can attend the session if you are completely new to the art of Suiseki or if you have been practicing it but are looking to gain more insights.
Let's get to know Master Tom Elias
Master Tom Elias, President of the "Viewing Stones of North America association- VSANA", was elected as Honorary Vice President and Vice Chairman of the Viewing Stone Association China; Honorary President of Macau Stone Art Association; Honorary Vice President of the Guangdong View Stone Association; and Honorary President of the National Bonsai Foundation, with the goal of making the National Bonsai & Penjing Museum the best museum of its kind in the world. International consultant of the World Bonsai Friendship Federation; during 2010, he was awarded the Medal of Honor and incorporated into the Order of the Rising Sun by the Japanese government for his work in promoting Japanese art and culture in the world. This is the highest recognition given to a non-Japanese citizen.
Master Thomas S. Elias and his wife Hiromi Nakaoji have been collecting and researching the ancient art of stone appreciation throughout Asia, with an emphasis on China and Japan, for over twenty years. They have travelled extensively, meeting with stone connoissieurs and attending exhibitions, including over 50 trips to China and Japan. Their comprehensive library of books, serial publications, and catalogs relating to stone appreciation, with its especially rich collection of Japanese and Chinese publications is one of the most extensive specialized library of its kind in North America. Elias and Nakaoji have published five books and over 100 articles on viewing stones and have maintained the VSANA website since February 2012. Check out some of their work here.
What you'll need for the session
1 hours of your time
A working internet connection
What you won't need for the session
No gardening tools
No terrace space required
No credit card details
No prior experience in Suiseki
Note: No need to register for this event. You can simply join by using the attend link or the following details on Zoom on 23rd Oct at 8 a.m.
Meeting ID: 924 0692 3135
Passcode: 736043
Are you ready to be part of the Suiseki Community?