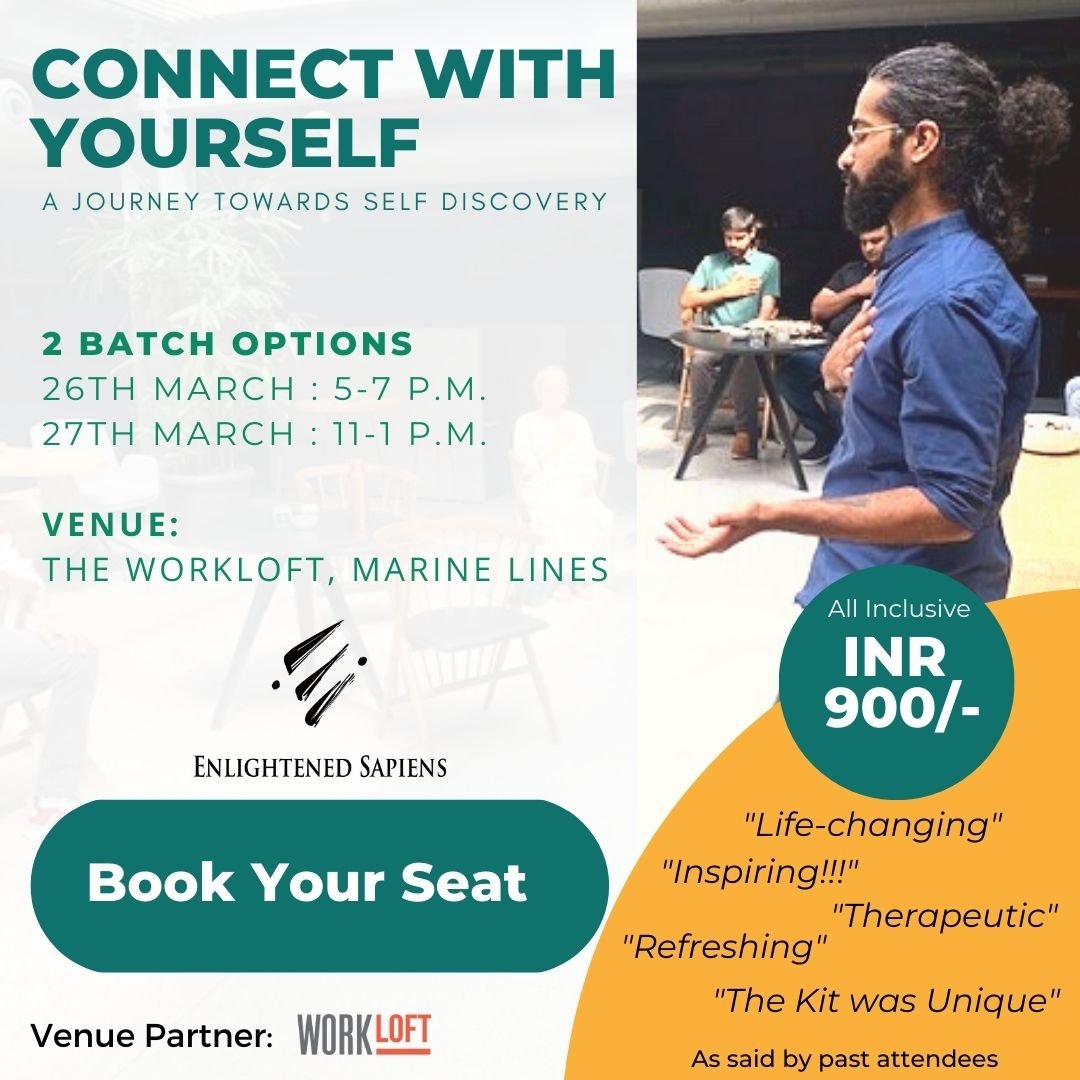 Connect with Yourself Experience – Batch 2
About the Experience
We're getting back to normal, aren't we? It's a good thing that "business as usual" is resuming in our lives again. But it's dangerously easy to step back into the 'keep hustling' culture and forget we're just simple humans. What we must remember, is to connect with ourselves time and time again.
And so, keeping that in mind…
We are super excited to announce our second edition of the 'CONNECT WITH YOURSELF' Physical Experience at the WorkLoft in Mumbai in 2 batches over the 26th and 27th of March, 2022 on learning the tools and techniques needed to truly connect with yourself.
A Glimpse of what's Planned for You
We're going to hand hold you through every step of the process, that includes starting with understanding what truly makes you happy and how to make the time to do more of the things that bring you joy.
This 2 hour session is backed with deep conversations with like-minded people over coffee, cookies and chocolates.
You're also going to receive your "Connect with Yourself" Kit that will help you continue your journey post this experience.
If you haven't registered already, please sign up to book your seat using the button below.
It might sound scary, but we've got you! (Also, age is not a barrier and never should be!)
Hear it first-hand from our previous participants:
Benaifer Mirza:
"Thank you so, so much for such a beautiful and refreshing session :). Please do a refresher every month, I'd say. It's quite therapeutic :D"
Dilip Lalwani:
"The workshop was well planned enabling each to share their stories irrespective of the age – beautiful. Do let me know ur programme calendar. look forward to attend"
John Abraham:
"I simply loved the conversations, ideas, emotions, expressed here, which were as triggering as insightful. I truly look forward to attending many more sessions by Enlightened Sapiens. I left the venue impressed… Inspired to keep "learning more."
____________________
Hope you get on our enriching bandwagon. We can't wait to see you, you beautiful souls!
____________________
Since this is a physical workshop, we'd really like to get to know each one of you well and allow for deeper and meaningful conversations. So there will be limited seats available.
Let's get to know Karan
This experience will be hosted by the Founder of Enlightened Sapiens- Karan Mulchandani. You've seen Karan, you've heard him speak but this time it will actually be face to face. With a background in IT Engineering and a soul that lives in the mountains, Karan Mulchandani founded Enlightened Sapiens with a vision of a mindful and collaborative society that facilitates the exchange of knowledge through personal experiences. Some of the things he loves include Meditation, Hiking, Gardening, Cycling, Writing, Philosophy, Music & Art. Check out some of his work here.
Let's get to know WorkLoft
WorkLoft is a co-working space where all members can network & grow under one roof, yet operate independently. The experience is inspired by German Architecture with the authenticity of South Mumbai culture. Know more through their website.
What you'll need for the session
2 hours of your time
An open mind
What you won't need for the session
No prior experience in Mindfulness
Event Details
Venue:

WorkLoft
35 Sir, Court Chambers, Ground Floor,
Vitthaldas Thackersey Marg,
New Marine Lines,
Mumbai, Maharashtra 400020
Directions
2 Batch options:
Batch 1:
Date: 26th March 2022
Time: 5 p.m. – 7 p.m.
Batch 2:
Date: 27th March 2022
Time: 11 a.m. – 1 p.m.
Add-ons: (included in the price)
"Connect with Yourself" Enlightened Sapiens Kit
Refreshments such as Tea/Coffee + Cookies
Are you ready to begin your journey towards Self-Discovery?